I really never paid much attention to semifreddos.  I noticed them on the menu at Italian restaurants.  My good friend and tennis buddy, Patty Mekita, who is a true Italian from New Jersey,  often talked about making one of her favorite desserts, a semifreddo.  Now that we have been in Italy for a few weeks, I have sampled several semifreddos and have come to love these smooth frozen mousse-like desserts.  They taste somewhat like ice cream, but are not as cold, hence the "semi".  They have the texture of a custard and they come in many flavors. Gary and I sampled two interesting variations this week:  a semifreddo with nougat sampled at a restaurant in Rome recommended by our friend, Wendy Johnson, a world traveler who has favorite restaurants in every city in the world.
Pietro Valentini Ristorante in Rome
Semifreddo with nougat and a vanilla semifreddo with chocolate sauce. This was actually sampled at a restaurant recommended in the Rick Steves Amalfi Coast book at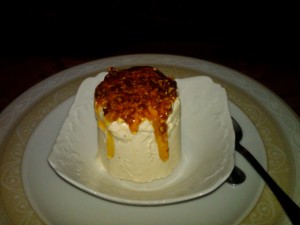 Ristorante il Buco in Sorrento
Both were divine. As a result, I contacted Patty Mekita and she has shared her favorite semifreddo recipe which is like the one her family used to make for her, but comes from the cookbook of an Italian Chef, Giada DeLaurentiis. When I return to San Diego, this will be on my "must make" list of desserts. Thanksgiving may even feature a semifreddo this year!
Mocha Semifreddo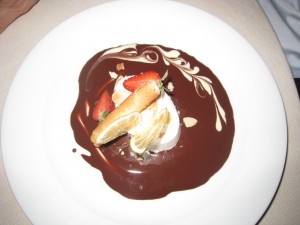 Nonstick cooking spray
4 ounces purchased amaretti cookies — about 20 small cookies
(I get these at Henry's, they're made by Musso and are near the produce section)**
3 Tablespoons unsalted butter, melted
¾ cup sugar, divided
8 large egg yolks
1/3 cup espresso
2 Tablespoons dry marsala
pinch of salt
1 cup heavy cream
Spray a 9 ¼ x 5 ¼ x 3-inch metal loaf pan (Corning Ware works great too) lightly with nonstick spray.  Line the pan with plastic wrap, allow the excess to hang over the ends and sides.
Finely grind the cookies in a food processor.  Add the melted butter and process until the crumbs are moistened.  Press the crumb mixture onto the bottom of the prepared loaf pan.  Refrigerate.
Whisk ½ cup of the sugar, the egg yolks, espresso, marsala, and pinch of salt in a large metal bowl, to blend.  Set the bowl over a saucepan of simmering water (do not allow the bottom of the bowl to touch the water).  (The metal double boiler works perfect for this part.)  Whisk the egg mixture until it is thick and creamy and a thermometer inserted into the mixture registers 160F, about five minutes or so).  Set this bowl of custard into another bowl of ice to cool completely.
Using an electric mixer, beat the cream and remaining ¼ cup of sugar in another large bowl until firm peaks form.  Using a large rubber spatula, gently fold the whipped cream into the custard.  Spoon the mixture onto the prepared crust.  Fold the overhanging plastic wrap over the custard and freeze until frozen, at least eight hours or up to three days.
Unfold the plastic wrap.  Invert the semifreddo onto a platter and peel off the plastic wrap.  Cut the semifreddo into one-inch slices and serve.
**This is Patty's note for those who live in San Diego.