Our recent NY trip allowed us to experience the culinary scene for almost a full week.  The highlights of our trip are captured below.
Esca
Our inaugural dinner upon arriving in NYC was at Esca, "just right combination of Dave Pasternack's refined cooking sensibility
coupled with Mario Batali and Joe Bastianich's restaurateur expertise."
Esca, which means "bait", is located in the theater district, but has none of the hurried feeling that you find at most
restaurants in that neighborhood.  Upon our arrival, it was 88 degrees in New York, so we sat outside that evening, enjoying
the wonderful food on the outdoor patio, with the New York vibes all around us.
The Branzino was the perfect selection for three people and the full assortment of vegetables is an offering that compliments
this simple, but devine dish.
The Branzino is encrusted in an "unrefined" sea salt and egg white combination.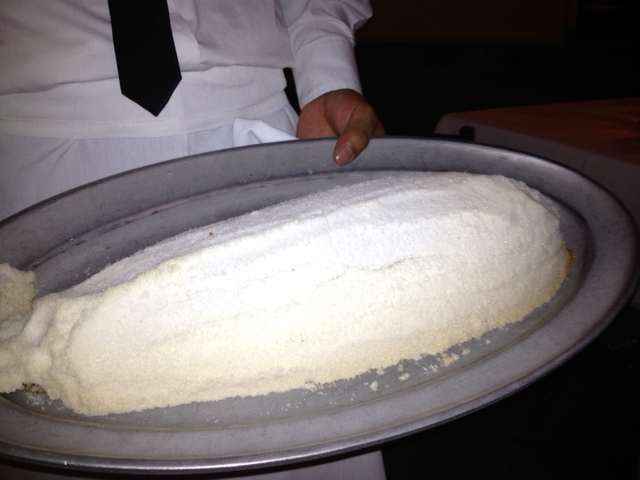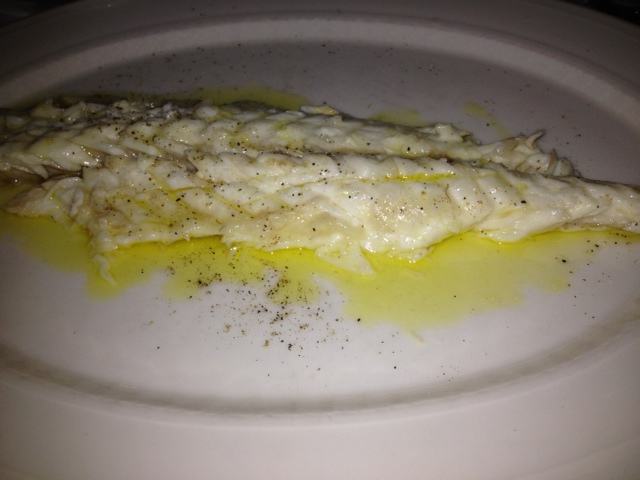 Dave Pasternak's recipe was available at Epicurious.com:
yield: Makes 2 servings
For this recipe, David Pasternack uses "unrefined" sea salt, which has no additives such as iodine or those that prevent caking,
so these salts are often moist. He also told us we could coat the fish with an additive-free kosher salt. It worked nicely but required
more egg whites (6 total).
Ingredients
3 cups fine sea salt (1 3/4 lb), preferably unrefined
2 to 4 large egg whites
2 (1-lb) whole branzini (European sea bass) or small sea bass, cleaned, heads and tails left intact
6 fresh parsley sprigs
4 fresh rosemary sprigs
2 garlic cloves, sliced
4 lemon slices, halved
Special equipment: parchment paper
Preparation
Preheat oven to 400°F.
Place salt in a bowl and add egg whites 1 at a time, stirring, until mixture looks like wet sand (the number will vary).
Rinse fish and pat dry. Place fish on a parchment-lined large baking sheet and divide remaining ingredients between cavities of fish.
Firmly pat half of salt evenly over each fish to cover fish completely.
Bake fish in middle of oven until salt is just starting to turn golden at edges, 15 to 18 minutes (see cooks' note, below).
Crack salt away from fish and discard, then carefully lift fish from bones.
Cooks' notes: • If your fish weighs slightly less or more than 1 pound, adjust cooking time accordingly.
• Salt may turn golden at edges before fish is ready. If fish is not cooked through, return to oven.
ABC Kitchen
abc carpet & home teamed up with chef jean-georges vongerichten and phil suarez to create abc kitchen,
featuring locally sourced  and organically focused menu.
You have to leave mid-town for this delightful restaurant near 18th and Broadway, but it's worth
the cab fare.
You rarely think about using the word "vintage" when it comes to restaurants, but dining at
ABC is truly a vintage experience.  It takes you back to the tableware on your grandmother's
table and the freshness of the food on grandmother's table.  Dine here with several friends so
you can share and try several of the tempting items on the menu.  We shared roasted beets and housemade
yogurt, ramp and goat cheese toast, pretzel dusted calamari with marinara and mustard aioli, asparagus and
bacon pizza, housemade chicken and pork sausage, and housemade ricotta, rhubarb compote and grilled bread.
All were fabulous.  More food than 3 people could consume.  We didn't have room for dessert, so we came back
the next afternoon and were delighted by the espresso and featured dessert – a sundae starring salted caramel ice
cream, candied peanuts and popcorn with whipped cream and chocolate sauce.  An unbelievable dining experience.
Also a fun spot for young people….nothing stuffy New York about this fresh take on food.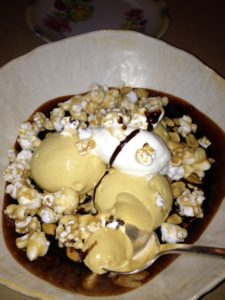 Edible Trifecta:  Boulud:  Bar, Cafe and Epicerie
EVERYTHING was fabulous.  From the spring onion soup and Wahoo to the Iberico ham, to the homemade chocolate ice cream with
hazelnuts.  We had the fixed price lunch at Bar Boulud one day, a dinner at the stand up table at the Epicerie
one evening, enjoying Iberico ham and artisanal cheeses and the highlight, at Cafe Boulud, we had a late lunch with
wine pairings.  I don't think we have ever had a more magnificent dining experience.  Words to describe the lunch:
fresh, seasonal, artistic, delicious. Can't wait to go back.