Along with about 30 friends from AIWF (American Institute of Wine and Food), we experienced our inaugural dinner at Mia Francesca at Del Mar Highlands this week. We were delighted to meet Chef Woody who hails from Mexico City via Chicago. Chef Woody will now be hosting small hands-on cooking classes once per month in addition to keeping the menu alive by "switching it up" every two weeks.
We experienced a wonderful tasting menu offering fresh and light ingredients. Lots of spinach and arugula adorned the various dishes that provided a broad spectrum of choices from the vast menu, paired with a nice selection of Italian wines.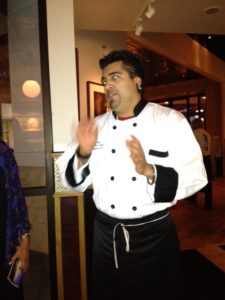 Our first course consisted of Pizza Schiacciata alla Toscana.
Schiacciata means crushed, so this was basically a thin crust pizza.
It was a white pizza with Fontina and arugula, sprinkled with a bit of goat cheese. I could have made an entire meal of this pizza alone!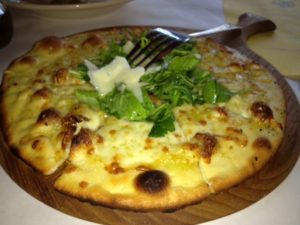 Next came the delicate lentils, prepared with minced carrots, onions
and celery, served with sautéed spinach and a few sprinkles of goat
cheese decorated this healthy offering. The last appetizer was a
delicious meatball made with pork, beef and veal, flavored also with the "holy trinity" of Italian cuisine, sautéed onions, carrots and
celery. Instead of being served on a bed of heavy pasta, this
meatball was the base for a plate of arugula and shaved parmigiana.
The first course was served with La Marca Prosecca.
The second course, spinach ravioli, was served with Rosso di Montalcino. The tasty sauce over the ravioli was a four cheese sauce of Swiss, mascarpone, mozzarella and blue cheeses. My guess is that the beautiful color of the sauce came from the addition of a bit of tomato.
This was already plenty of food, but the best was yet to come. The main course consisted of Pollo Limone, a delicately sautéed chicken breast in a light lemon, butter and garlic sauce, accompanied by a sautéed spinach. Part 2 of the main course was a lightly fried Tilapia Capesante. Capesante are scallops, which were beautifully seared, creating a golden outer beauty, with a perfectly moist and flavorful interior. The main course was served with Alois Lagender Pinot Blanco.
To satisfy the sweet craving at the end of a great meal, we enjoyed a simple profiterole filled with pistachio gelato and just a taste of chocolate decorating the finale. Moscato D'Asti accompanied this final course.
Can't wait to go back to Mia Francesca, for more of the tasty fare, but also to continue my education about Italian wines Hopefully they will figure out how to solve the parking problem at the Highlands in the near future.