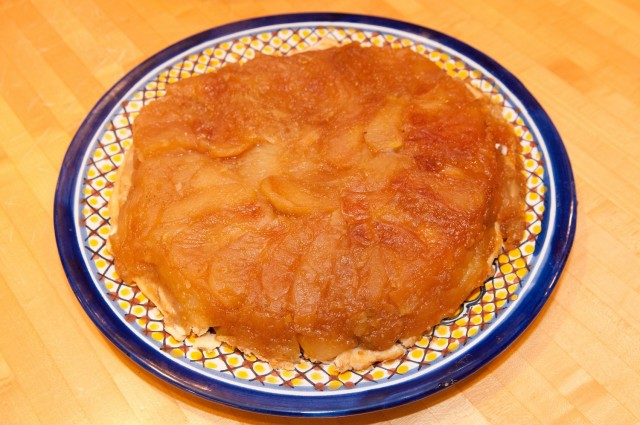 Apple Tarte Tatin
Apple Tarte Tatin has always felt like the perfect Springtime dessert. This upside-down apple tart is the perfect treat after a beautiful day enjoying the sunshine. Beautiful and delicious, serve this up with a scoop of vanilla ice cream for an absolute crowd pleaser. Be careful though; it's so good, they'll want you to make it again and again.
APPLE TARTE TATIN
1¾ cup flour
9 tablespoons unsalted butter
1 teaspoon salt
4 to 5 tablespoons ice water
12  large Granny Smith apples (6 lbs.)
2 cups sugar
9 tablespoons butter
Zest and juice of one lemon
Preheat oven to 425 F
1. Prepare crust.
In food processor, mix flour, salt and butter until crumbs are formed.  Add ice water and pulse until mixture holds together nicely.  Wrap in wax paper and chill until needed.
2. Prepare apples.
Peel, quarter, slice each quarter into three slices.  Add the lemon zest and juice to the apples.  Add ¾ cup of the sugar and stir.  Let steep for 20 to 30 minutes then drain apples.
3. Make caramel and cook apples.
Using a 12 inch iron skillet, melt butter and add remaining 1¼ cups sugar.  Stir until a brown bubbly caramel forms.
Add the apples to the caramel, arranging them in a nice pattern around the pan.  Continue to add apples in subsequent layers, filling in the empty spaces until all apples have been added to pan.  Cook about 15 minutes, covered, basting the apples with a bulb baster periodically.  When the syrup is nicely thickened, remove pan from heat.
4. Prepare and Bake.
Roll the dough out in a 13″ circle.  Center the dough over the apples, forming an edge with the excess dough.  Bake 20 minutes in a preheated oven until crust is nicely browned.  Remove from oven and ensure that juices are not too thin.  If necessary, cook down juices on stove until juices are thick.
5. Flip Tarte Tatin.
Turn the pan upside down onto a serving dish.  You may need help with this as the pan is red hot and very heavy.
6. Serve. 
Cut Tarte Tatin into slices.  Serve with vanilla ice cream.
This recipe is from Cook the Part. You can grab your own copy here.