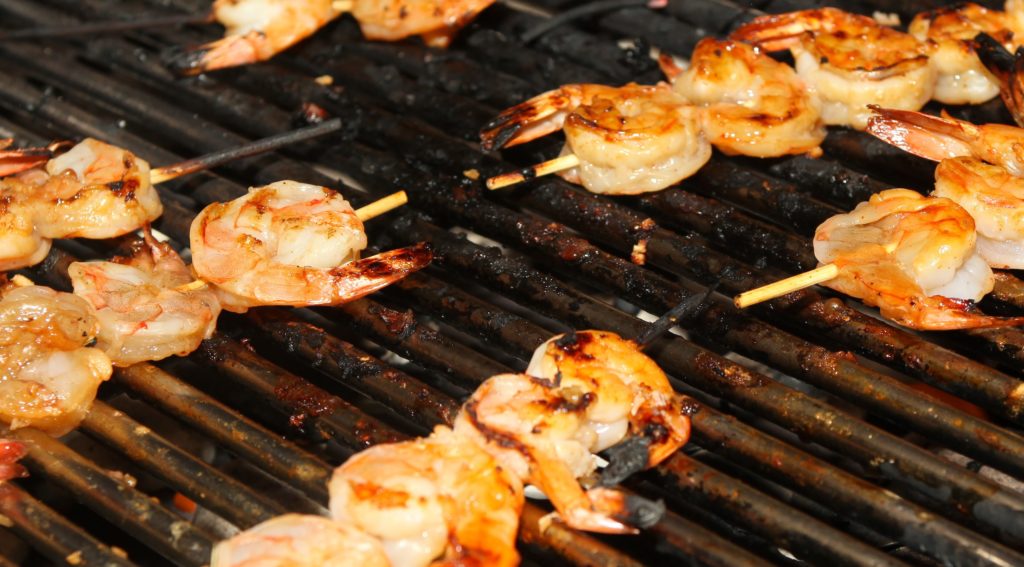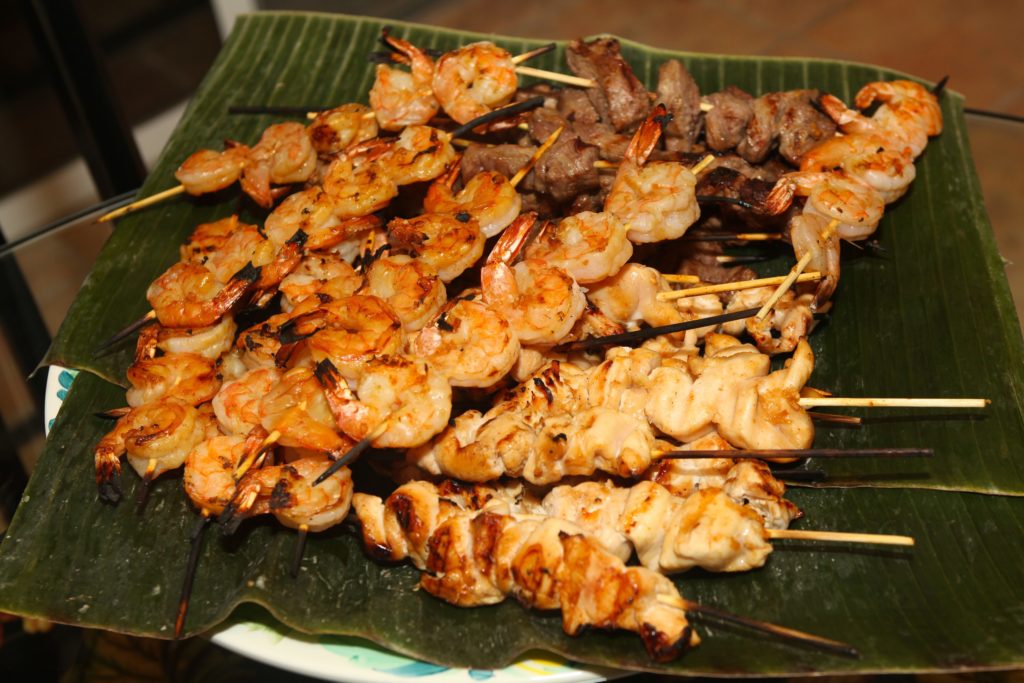 For your next BBQ, try something different!
Marinade
1 cup kecap manis (Sweet Indonesian Soy Sauce)
4 garlic cloves, crushed
Juice of one lime
1 teaspoon coriander
½ teaspoon chili powder
1 teaspoon salt
Satés
1 ½ pounds filet mignon, cut into strips across the grain, 1/2″ wide, 1/2″ thick
1 ½ pounds boneless, skinless chicken breasts, cut into ½ inch strips
24 large shrimp, peeled, deveined, with tails on
36 bamboo skewers, soaked in water for at least one hour
Banana leaves for serving décor
Peanut Sauce
1 cup creamy peanut butter
Juice of ½ lime
2 tablespoons soy sauce
2 tablespoons chopped fresh ginger
½ teaspoon dried crushed red pepper
1 tablespoon sesame oil
½ teaspoon chopped jalapeno
½ teaspoon cayenne pepper
Prepare Satés.
Cut filet and chicken into strips as indicated.
Prepare filet, chicken and shrimp skewers. (Keeping each separate due to different grilling times.)
Make Marinade.
Combine all ingredients and pour over skewered satés in a shallow pan. Refrigerate until ready to grill or broil.
Prepare Peanut Sauce.
Combine all ingredients in small saucepan and stir continuously until sauce begins to simmer. Simmer for 15 minutes, stirring frequently and leave in saucepan. Reheat when ready to serve.
Grill Satés.
Heat grill on medium heat. Grill the skewers as follows:
The chicken skewers should take about 4 minutes per side.
The filet should take about 3 minutes per side for medium rare.
The shrimp should take about 2 minutes per side. Cook just until they turn white and remove so as not to overcook.